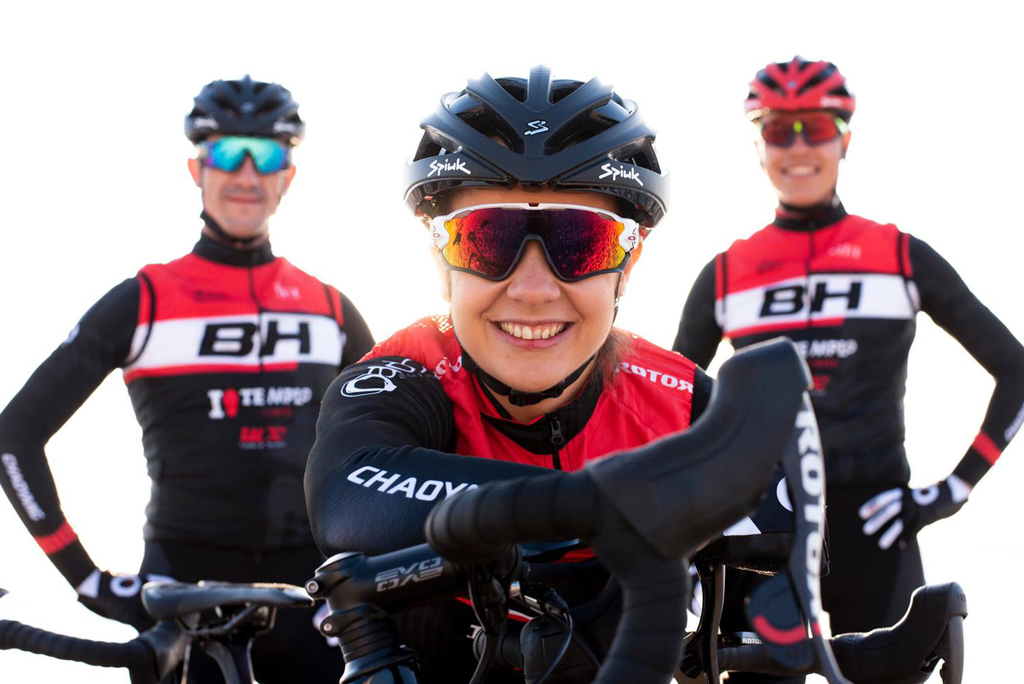 The large number of fans that came to the track of the pediment of Albelda de Iregua, in La Rioja, foreshadowed that the new BH TEMPLO CAFÉS UCC was going to start its journey in the best possible way. So it was. As in any large presentation, the venue housed a stage with a large screen, and next to this a paddock with the material that the team will use in competition. Everything was arranged so that the new project of Carlos Coloma started its way towards the Olympic Games in Tokyo.
Coloma presents its new project surrounded by a large number of fans
Before the official ceremony began, those present had the opportunity to visit the paddock where the main stars of the night, Rocío del Alba, Josep Durán and Carlos Coloma, signed autographs, photographed themselves and had time to converse closely with the mountain bike fans that were approaching.
The presentation began with the rows closest to the stage occupied by different public authorities, led by the President of La Rioja, José Ignacio Ceniceros González, representatives of the main sponsors and the entire BH TEMPLO CAFÉS UCC team in full. The screening of an interview made by Roberto Carretero to Carlos Coloma, recorded a few days ago, opened the event and got the audience and protagonists of the night excited from the start.
Both the mayor of Albelda de Iregua, Rosana Zorzano, and the president of La Rioja, José Ignacio Ceniceros González, showed in their speeches the institutional support of the project of Carlos Coloma, recently appointed tourist ambassador of La Rioja.
The head of communication at BH, Alvaro Olasolo, and the Manager Marketing of Templo Cafés, Adrian Lombraña, also had time to address the public with whom they shared the illusion of being an important part of this new mountain bike team.
After them, Carlos Coloma with his BH Lynx Race on his shoulder and accompanied by Rocío del Alba and Josep Durán gave a speech of thanks to all those who have made it possible for BH TEMPLO CAFÉS UCC to see the light. Carlos Coloma did not miss the opportunity to point, in the form of a hashtag, the long-term goal of the team, # CHASINGTOKYO2020.
Textos: IGNACIO P. (brujulabike)
https://youtu.be/VZcz67PgIQE